One of the best parts of collecting patches is the wonderful community of fellow collectors that exists. I love getting to met and trade with wonderful people from across the globe (as well as in my own backyard!). Sometimes though it seems like it can be hard to find new people to swap – or just chat about crests – with.

If you're looking to expand your list of swap contacts, love reading about patch collecting or would just like to stay abreast of some of the patch related news that happens around the world, then without a doubt the Girl Guide and Girl Scout Badge Collectors Club is for you!

This terrific club is centred in the UK and run by a lovely lady named Annette Preston. The cost of club membership is very reasonable: £8 in UK and £10 for those outside UK (which can be paid in cash, UK Cheque, or by UK/international money order, in the following currencies: Euros, Pounds, Australian dollars, US dollars, and Canadian dollars). Membership entitles you to six printed club newsletters each year, plus a hugely useful CD upon joining, which is jam packed with a directory of known patches from various countries.

Each of the multi-paged newsletters features information on topics such as recent Girl Guiding and Scouting events (particularly in the United Kingdom), write-ups about the patches and relevant Guiding information about particular parts of the world (in the most recent newsletter, New Brunswick, Canada was in the spot light), the names and contact info of new members, general GG and GS patch related articles, and member profiles (including what patches people are specifically looking for and/or have to trade). I've been a member of the club for a year now and adore receiving the newsletters, which arrive like clockwork every two months, and highly recommend becoming a member to fellow patch enthusiasts.

If you are interested in joining the Badge Collectors Club, please contact Annette Preston by email at annette@badgers2.madasafish.com, by postal mail at 24 Badgers Brook Road, Drayton, Norfolk, NR8 6EY, England, or by telephone at +44-(0)-160-386-1435. (In case you were wondering, at present, the club doesn't have its own website.)

Below is the club application form which can be mailed with your annual membership fee (make cheques payable to "Guide & Girl Scout Badge Collectors Club") to the address above:

Guide and Girl Scout Badge Collectors Club membership application form. Please complete and return, to the above address.


PLEASE COMPLETE IN BLOCK LETTERS (apart from e-mail!)

NAME…………………………………………………………………
ADDRESS…………………………………………………………
………………………………….………………………………………
POST (POSTAL) CODE……………………………
E-mail …………………………………………………………

Data Protection Act – I give permission for my details to be held on a computer. I give permission for my details (*address / e-mail) to be published in the newsletter.

Signed……………………………………………………………

I enclose a *cheque / money order / cash for £…………………
(Sterling cheques only)

(* Please delete as appropriate)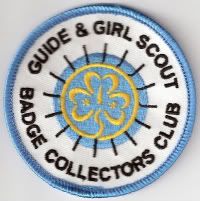 This is official Badge Collectors Club patch.
It's available for 75p (pence) per patch,
plus SAE, from the address above.