It's fascinating, as a result of this blog (which, has been online now for nearly four years, can you believe it?), I'm frequently contacted by all kinds of folks from around the world who have a bevy of different questions pertaining to Girl Guides and Girl Scouts.
Sometimes people want to know what a specific badge or patch is (and certainly if I know, or have an idea as to where they can look to find that info out, I tell them), others want to share their personal Guiding experiences with me.
Many people are interested in knowing if I have a specific item they're after (remember, you can always see a current list of what I have available in my Dupes and Traders list), and others still have a more obscure query (such as if I know who the mascot was for a certain camp).
From time-to-time I hear from people who are curious as to what the specific requirement were to earn a certain badge, pin, or cord.
Earlier this month I received an email from a woman who was wondering what a girl had to do to earn the GGC's All Round Cord during the 1990s (this much loved Guide award was in place between roughly 1910 and 1993).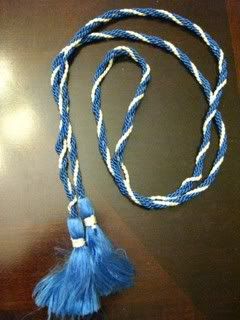 (The All Round Cord, also known as the All Around Cord, as it looked during the 80s and 90s. Image first used in my post from 2009 about what your Holy Grail of Girl Guide Collecting is.)
Though I don't have a copy of the GGC's Guide handbook from the the very early 90s, I do have one from the 80s, which includes the criteria one needed to complete in order to earn the All Round Cord. The requirements really didn't change much between the 80s and 90s, so I felt confident sharing this information with someone else.
Many of us are intrigued by all of the cords that the Girl Guides of Canada have offered over the years (including the Gold Cord and Canada Cord, on top of the All Round Cord), so I thought that I'd share the same information with all of you, too, in case anyone else out there is curious about what the requirements were that one had to complete in order to qualify for the All Round Cord.
According to the 1981 copy of the Girl Guides of Canada's Guide program book that I have, in order to earn the All Round Cord, a Guide needed to do/earn (all of) the following:
-The Complete Adventure Challenge (badge set) and Voyageur Challenge (badge set)
-Complete at least one of the following badges: History, World Trefoil or World Neighbor Badge
-Hold the Camp Badge, plus at least four of the following badges: Explorer, Stalker, Astronomer, Naturalist, Hiker, Trackers, Forest, Bird Watcher, Outdoor Adventure, Ecologist, Conservationist, or Wildflower
-Hold at least one of the following badges: Cook, Homemaker, Handywoman, or Seamstress
-Hold at least one of the following badges: Fire Safety, First Aid, or Rescuer
-Hold both the Citizen and Law Awareness badges
-Hold at least one of the following badges: Health, Keep-Fit, or Athlete
-Learn about three organizations or agencies which held others. Tell how you could work with or contribute to the work of one of these.
-Chose and carry out a project in which you give service to others. This project was a challenge that was approved and evaluated by a Guide's company and the person(s) to whom she gave the service.
-Find out about Pathfinders and take part in an activity with them, if possible.
-Do a project which shows what the Promise and Law mean to you. This was then presented to either the Guide's Company or a small group of Guides.
"When you have checked off each of the items in this record you will have earned the All Round Cord. Congratulations!"
------
Though this was certainly a heavy work load, it wasn't incredibly tricky, especially for those girls who were quite keen on earning badges, and as a result thousands of young women earned the All Round Cord over the decades it was in use.
While no longer used today, the All Round Cord still sparks memories for many who were involved with Guiding when it was a popular part of the Guide program.
Much sought after as a collectible, those hoping to track down a blue and white All Round Cord of their own, are wise to keep their eyes peeled on eBay, where this earned Guide item does, very occasionally, pop up.
I'm always interested in trying to help people who are interested in Girl Guiding and Scouting, so if you have a query of any sort (while I can't promise you I know the answer), by all means feel free to email me with your Guiding questions any time.